Meagan Carstensen - Director
meagan@helpingourmoms.com
Meagan is a Corvallis transplant from Northern California and never wants to look back. She started her gaggle of ladies with her husband Josh five years ago with their oldest Charlotte, then Whitney and finally baby Penelope. Meagan believes that it takes a community of support to raise thriving kids, which is why she is HOME's biggest fan. Her involvement with HOME began after having her first born and she joyfully began coordinating the group in 2013 where she oversees the HOME leadership team. Meagan's favorite part of HOME group is the authentic and caring community that she is privileged enough to do life with and has found great joy in seeing how HOME brings families together to encourage one another. In the few spare moments that Meagan has, you may find her attempting to doing something creative or having fun with her fam outside.
Florence Perez - After Hours Coordinator
florence@helpingourmoms.com
Florence grew up in Southern Oregon and lived in Guatemala for two years where she met her husband Edgar. They have a two year-old son Mateo who is always seeking adventure and has never ending energy. They moved to Corvallis August 2016 for Edgar to start the Electrical Engineering and Computer Science program at OSU and Florence a new job at OSU. Upon moving to Corvallis, Florence was seeking a way to connect with other moms who are in a similar season of life. The same year Home started Home After Hours, geared towards working moms and Florence found the community she was seeking. Florence's favorite part of Home After Hours is the support and friendships built with other moms. Florence enjoys going to the coast, reading, crocheting and baking.
Eleni Cabaniss - Childcare Coordinator
eleni@helpingourmoms.com
Eleni Cabaniss came to Corvallis in 2009 to study early childhood education at OSU. After graduating, with a surprise baby (Whoops!), she decided to forgo her teaching track for the time being. Baby Charlie was a game changer. Eleni and her husband Andrew continued to pop out two more babies, Jolie and Teddy. Eleni was grateful to discover HOME as she was learning to embrace motherhood in 2012. She joined the Leadership team a year later taking on the beast of coordinating childcare. Eleni finds the encouragement and knowledge she gains from HOME priceless. It keeps her in check with this whole mothering business. In the evenings you'll probably find her curled up in a small ball on the couch, hiding, eating ice-cream and reading some paper back mystery novel.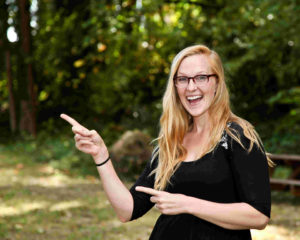 Brittni McGann - Publicity, Sets the Stage and Caring Team
brittni@helpingourmoms.com
Brittni grew up in a small town about an hour north of Corvallis called Canby. Her husband of 4 years, Kyle, is an engineering student at OSU after 10 long years in the military. She only has one blessing (so far) named Swift who is 2.5 years old. She believes that in the end, three things will stand, faith, hope and love - but the greatest of these is Love. Brittni is new to the HOME leadership gals but feels honored to get to help out this year! One thing that she loves about HOME is how it connects women in what may seem like a scary and isolating transition in life. Not to mention how awesome they all are! She also loves spending time in the great out doors and is enjoying the journey of becoming a Lactation Consultant.
Jenny Hoffman - Sets the Stage, and Caring Team
jenny@helpingourmoms.com
Tracy Happeny - Publicity and Caring Team 
tracy@helpingourmoms.com
Tracy met her hubby Dane in high school and they have two kids, son, Easton was born in 2015 and just had baby Ellery this year. Tracy started attending HOME while pregnant and now serves as the secretary. This mainly consists of keeping the roster up-to-date and taking notes as everyone talks at once during the monthly leadership meetings.  She credits HOME group to providing so much stability and confidence when she was a new mom, and loves to see this village rally together when one has a need. She'll be the one filling up her coffee cup (again!) and probably laughing a little too loud. In their "free" time (who has that, honestly?) her and Dane enjoy fixing up their home, drinking wine while watching The Bachelor and cheering on the Beavers.
Katie Mock - Caring Team 
katie@helpingourmoms.com
Katie is a native to the Willamette Valley as she was born and raised in Lebanon.  Katie and her husband Aaron are expecting their first child, a boy, this October. Katie loves people and believes that community is a vital part of having healthy relationships and raising children. She first became involved in home as a substitute childcare teacher two years ago and then volunteered on a regular basis in childcare this last year. She has always loved the support that HOME provides to each other and being a part of a group with other women who are in the same life stage and taking on similar struggles and triumphs. On HOME leadership she helps keep moms connected with table hosts and leaders, organizes meal plans, helps attend to any needs that may arise, and helps out with the childcare team.  In her spare time she enjoys spending time with her husband going on walks/hikes, playing games, and just enjoying life with family and friends.
Megan - Secretary 
megan@helpingourmoms.com
Natalie Morse - Treasurer, Sets the Stage and Childcare Team
natalie@helpingourmoms.com
Natalie was born in Santa Barbara, California, grew up in Alaska and Idaho, and is now happy to be able to call Corvallis home for the past 15 years.  Her husband, Daniel, and her have one "loving life" four-year old, Emma, who keeps life fun and adventurous for their family.  Natalie has a passion for helping women find a place to belong and has been honored to serve on the HOME team the past four years.  She loves that HOME provides a fun, safe and warm place to connect with other women to work through motherhood together and the opportunity to meet so many women from the Corvallis and Albany areas.  Prior to life with kids, Natalie worked as an accountant and is excited to again fill the role as treasurer this year, as well as being part of the childcare team.  In her free time, Natalie has an insane passion for cooking, wine and sitting around the table with family and friends.